ArtPrize: The World's Largest Open Art Competition
Pamela's ArtPrize Collection
Voted Top ArtPrize Finalist: 2012, 2013, 2014, 2016, 2017, 2018 • Top 20 and 3rd Place for Time-Based in 2015
Since 2009, ArtPrize, the world's largest open art competition, draws more than 500,000 visitors to Grand Rapids, Michigan. Veteran ArtPrize artist Pamela Alderman has become known for creating a new kind of artist/viewer work that invites audience collaboration. The work invites individuals into the healing process through participatory art. As visitors engage in the art making, small steps toward healing result. Over ten years of ArtPrize, Alderman's interactive installations, including The Scarlet Cord and Hometown Hero, have touched thousands—one person at a time. This healing art involves you—because you matter!
ArtPrize 2018 Installation: Broken Wings
Strengthening and Nurturing Our Kids
The Inspiration
Broken Wings invites a response. Like the monarch butterflies clustering on trees to survive, let's work together to help bring an end to the suffering, chaos, and brokenness. From the broken wings of Columbine, Parkland, and Santa Fe—let's make new choices for a better future. Let's help heal our nation.
Broken Wings (detail), Pamela Alderman, Acrylic on wood panel, 3 x 6 feet, 2018
Find out more about Broken Wings…
ArtPrize 2017 Installation: Let Go
Keeping Hope Alive
The Inspiration
Life is full of twists and turns, edging us toward choices, transformations—change. Many of us want to resist change, but it's a natural part of life. It takes courage and strength to let go of the things holding us back, to embrace change, but in the process we discover renewed hope. Letting go releases us to experience new levels of peace and soul healing.
Let Go (detail), Pamela Alderman, Mixed media, 19 x 6 feet, 2017
ArtPrize 2016 Installation: Color Me Orange—Color Me Kind
Coloring with Kindness
The Inspiration
The paintings of the koi fish swimming against the strong currents in Color Me Orange—Color Me Kind show our struggles with difficult relationships. But when kindness colors over hate, we can help heal our world. By tying an orange ribbon on the mesh canvas, we promise to be kind to others—even with those we don't like or who are different from us.
Color Me Orange—Color Me Kind, Pamela Alderman, Mixed media, 16 x 4 x 6 feet, 2016
Find out more about Color Me Orange—Color Me Kind…
ArtPrize 2015 Installation: Hometown Hero
Saluting Our Hometown Heroes
The Inspiration
Hometown Hero features a painting of Eric Burri who died serving his country in Iraq, but it encourages people to think about the heroes in their own personal lives. It's about ordinary people who have gone above and beyond, and have really touched the hearts of others.
Hometown Hero, Pamela Alderman, Acrylic on canvas, 24 x 6 feet, 2015
Find out more about Hometown Hero…
ArtPrize 2014 Installation: The Scarlet Cord
Healing for Sex Trafficked Children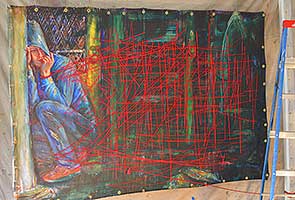 The Inspiration
Loving others can involve sacrifice, leaving one's comfort zone, and getting involved in the messy or ugly parts of life. ArtPrize 2014: The Scarlet Cord installation has ventured into the underworld of child sex trafficking in partnership with Women At Risk International.
Wounded, Pamela Alderman, Multi media on canvas, 58x96 inches, 2014
Find out more about The Scarlet Cord…
ArtPrize 2013 Installation: Wing and a Prayer
Celebrating the children within Hope Network
The Inspiration
These special children and their families inspire others to soar above adversity and give hope wings.
Wings of Life, Pamela Alderman, Watercolor on Paper, 40x36 inches, 2013
Visit Pamela's ArtPrize 2013 Gallery…
ArtPrize 2012 Installation: Courage Ablaze
Raising awareness for the women and children of Congo
The Inspiration
Since 2011, I have worked with some of the Congolese refugees now living in West Michigan. Our lives first collided at an event when their colorful native dresses trimmed in cowry shells captivated my artistic eye. But I didn't realize that these new friendships would lead me on a path into the heart of Africa: a place unsafe to be a woman.
Courage Ablaze, Pamela Alderman, Watercolor on Paper, 66x44 inches, 2012
Visit Pamela's ArtPrize 2012 Gallery…
Note: Pseudonyms and models have been used to protect identity. Stories used by permission.
ArtPrize 2011 Installation: Braving the Wind
Remembering loved ones battling cancer
The Inspiration
Resolved to beat her cancer and run again, Kara grasps this famous quote: "The miracle isn't that I finished; the miracle is that I had the courage to start."
Braving the Wind, Pamela Alderman, Watercolor on paper, 26x40 inches, 2011
NOTE: Nearly 20,000 Hope Cards were added to the Healing Tree to honor loved ones with cancer.
Visit Pamela's ArtPrize 2011 Gallery…
ArtPrize 2010 Installation: Woman in Red
Honoring the American Heart Association's Go Red For Women
The Inspiration
At age three, Natalie said, "Mommy, my heart hurts." Initial medical tests didn't reveal the real problem. But 12 years later Natalie found herself winded while playing high school lacrosse.
Woman in Red, Pamela Alderman, Watercolor on paper, 22x30 inches, 2010
Visit Pamela's ArtPrize 2010 Gallery…
ArtPrize 2009: Companions
Exhibiting at ArtPrize since its inception in 2009
The Inspiration
Companions mirrors my experience as a Caucasian, living among a shiny black-haired people. My Japanese friends not only hosted me for dinner, but they welcomed me into their lives, erasing the boundaries.
Companions, Pamela Alderman, Watercolor on paper, 18x24 inches, 2009