Pamela's ArtPrize 2012 Series
Voted Top 100 Finalist
Courage Ablaze
Raising awareness for the women and children of Congo
Displayed at the Amway Grand Plaza Hotel • Grand Rapids
Courage Ablaze: The Inspiration
"Courage," C.S. Lewis said, "is not simply one of the virtues, but the form of every virtue at the testing point."
Toni's smile and quiet strength drew me to her. Although her native language was French, a few simple words bridged our lives, and the distance between a Congolese refugee and an American artist narrowed.
Before meeting Toni, I knew nothing of Congo except that it was a country located somewhere in Africa. Five minutes passed before I found this country on the world map hanging in my garage.
My life collided with these Congolese women at an event where their native dresses that were trimmed in cowry shells captivated my artistic eye. I didn't realize then that these new friendships would lead me on a path into the heart of Africa: a place unsafe to be a woman. Since 2011, I have worked with Toni and other Congolese refugees now living in West Michigan.
Though the flames of adversity blazed through each of their stories—leaving massive damage—these women are rising out of the ashes and rebuilding a new future for their families. The following Portraits of Courage reveal the fierce determination of these remarkable women.
Note: Pseudonyms and models have been used to protect identity. Stories used by permission.
The Flame Tree • Pamela Alderman
Multi media • 48x95 inches • 2012
The Flame Tree
The copper tree represents the African Flame Tree, a resilient tree that showcases brilliant red flowers. The charred frames symbolize the family members slaughtered in Congo's holocaust. Since the beginning of the genocide, an estimated six million people—fathers, mothers, sons, daughters—have been savagely killed.
Though vicious enemies have sought to annihilate the Congolese people, their sturdy generational roots continue to grow. Glowing faces rise under the blackened frames portraying their courageous spirits. And these refugees, like the Flame Tree's blossoms, still radiate stunning beauty.
NOTE: Models have been used to represent the Congolese survivors.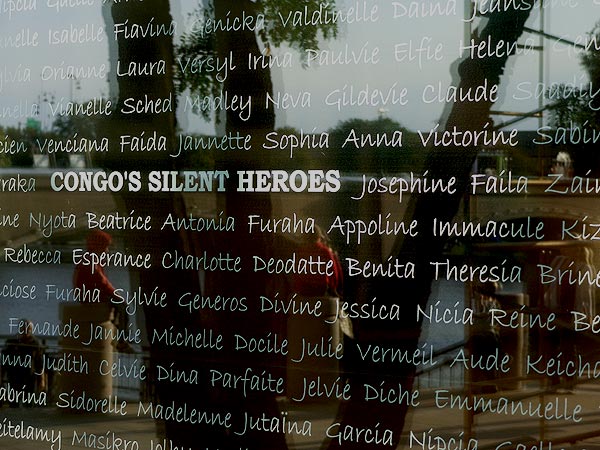 Congo's Silent Heroes (part of the ArtPrize 2012 Courage Ablaze series)
Mass rape is cheaper than bullets, and it creates more instability. The women feel defenseless; the men are rendered powerless. The goal of sexual violence is simple: Shame the women. Break the men. Destroy a nation.
To the estimated two million Congolese women who have been raped, Congo's Silent Heroes, I dedicate this work.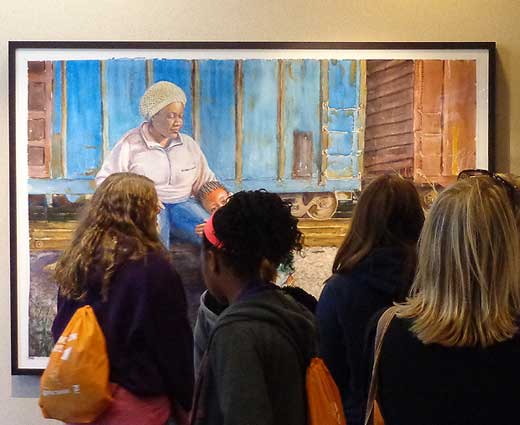 Pamela has been an ArtPrize artist since 2009
Since 2009, ArtPrize is the world's largest open art competition. This 19-day event in Grand Rapids, Michigan draws more than 500,000 visitors with around 1500 participating artists. This unique event involves local and international artists, art, and active community participation. Veteran ArtPrize artist and facilitator Pamela Alderman is known for creating a new kind of artist/viewer work that invites audience collaboration. Her work lets others speak and respond. In 2015, her work, Hometown Hero, was voted into the Top 20 and finished 3rd Place for Time-Based exhibits.
Courage Ablaze works donated to Grand Valley State University of Grand Rapids, Michigan; Women At Risk, International of Grandville, Michigan; and Bethany Christian Services of Grand Rapids, Michigan