Pamela's ArtPrize 2014 Series
Top 25 Installation
The Scarlet Cord
Healing for Sex Trafficked Children
September 24 – October 12 at the Gerald R. Ford Presidential Museum
Being unwanted, unloved, uncared for, and forgotten by everybody…that is a much greater hunger.
The Scarlet Cord installation reveals the deception that enslaves innocent children. As visitors step inside a 40-foot storage container filled with thirty doors, they enter a secret world. This dark world crosses religious and social economic borders to sell our children for sex. The twisting scarlet cord depicts the trauma bond that connects the children to their traffickers. The weathered doors represent these abused children whose youthful minds have become knotted. Alderman's art—dedicated to these suffering children tethered within the sex industry—calls for compassionate action.
The Scarlet Cord installation partnered with Women At Risk International for ArtPrize 2014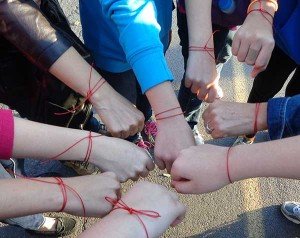 Wear a "scarlet cord" bracelet to symbolize your commitment to protect children. Build circles of protection around your community's at-risk children. By confronting the harsh reality of child trafficking, we activate hope and healing.
Over 70 Women At Risk volunteers helped give away 30,000 red string bracelets.
More information about The Scarlet Cord…
Pamela has been an ArtPrize artist since 2009
Since 2009, ArtPrize is the world's largest open art competition. This 19-day event in Grand Rapids, Michigan draws more than 500,000 visitors with around 1500 participating artists. This unique event involves local and international artists, art, and active community participation. Veteran ArtPrize artist and facilitator Pamela Alderman is known for creating a new kind of artist/viewer work that invites audience collaboration. Her work lets others speak and respond. In 2015, her work, Hometown Hero, was voted into the Top 20 and finished 3rd Place for Time-Based exhibits.