Healing in Arts
Healing in Arts is donor supported
You can get involved, donate securely on the Healing in Arts web site.
Interactive Healing Installations
Artist and facilitator Pamela Alderman creates a new kind of artist/citizen work that invites audience collaboration. The work lets others speak and respond.
I could not hold back my tears. Thank you so much for creating a work of art that we could all be a part of and leave our mark on…
Pedro – ArtPrize Seven (2015) visitor response
Pamela Alderman already has had a superb ArtPrize* career. This year (2014), Pamela's installation The Scarlet Cord at the Ford Presidential Museum is attracting thousands. Her work of paintings combined with participatory Yoko Ono-like installations hit home, and the lines for her exhibit grew longer every day. What Pamela experienced, and what ArtPrize made possible, is an extraordinary success by any measure.
Makoto Fujimura
Artist, Writer, Cultural Shaper
Founder, International Arts Movement
*ArtPrize is the world's largest open art competition since 2009. For over two weeks, the entire Grand Rapids, Michigan downtown changes into an art venue while public-based voting decides the winner. Approximately 400,000+ visitors attended during the 19 days of ArtPrize 2014.
The stories paired with the paintings bring your beautiful message and characters in the paintings to life!
ArtPrize 2010 visitor response
ArtPrize ushered Pamela Alderman's artwork onto a large stage—with thousands of people visiting the Amway Grand Plaza Hotel where her Woman in Red collection showcased in 2010. ArtPrize also became a catalyst for Pamela to discover that she doesn't just paint watercolors. She also creates interactive installations where visitors experience art's powerful potential to heal.
Just the act of writing the message and hanging it on the tree made me feel like I was part of the healing process.
ArtPrize 2011 visitor response
In 2011, Braving the Wind—a depiction of a young woman's cancer battle combined with an interactive Healing Tree—invited visitors to honor loved ones who struggled with cancer. Nearly 20,000 ArtPrize visitors actively participated by hanging notes on the tree. Many shed tears. Pamela recalls, "As the artist, I only needed to get out of the way and allow the audience to become part of the story."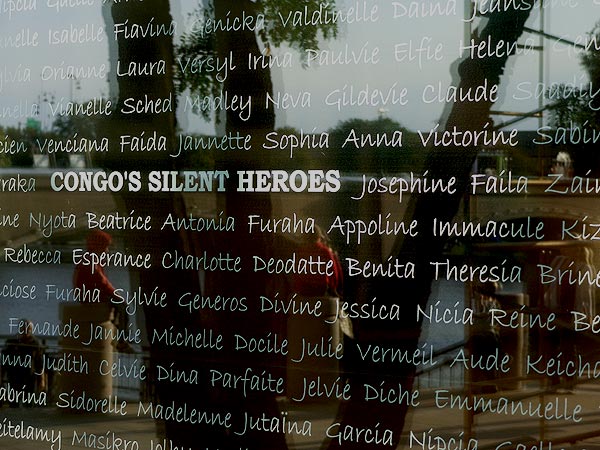 A window honoring Congolese rape survivors, from half a world away, and seven-foot pillars portraying the stories of courageous refugee women prompted several ArtPrize 2012 visitors to confide their own rape stories. In those tender moments, Courage Ablaze helped facilitate small steps towards healing.
ArtPrize 2013 Photo by Paul Willis
Visitors were invited to write a note for children in need and to hang it on the wall for Pamela's Wing and a Prayer installation in 2013. She prepared 20,000 vellum cards. To her astonishment when all the vellum cards had been used, visitors started posting her business cards on the wall. "ArtPrize visitors' desire to participate in the healing process couldn't be stopped," said Pamela. "They created their own pathway to respond to the work."
Your art helps us emotionally connect to issues we might only understand on the intellectual level.
ArtPrize visitor response
Whether focusing on heart disease, cancer, rape, autism, or sex trafficking, Pamela's installations help raise awareness and invite visitors into a space to experience healing. "Art offers the power to pause," said international artist Makoto Fujimura, "and the potential to find healing." ArtPrize created the opportunity for Pamela to exhibit her transformative installations, and visitors validated art's healing power.
You can get involved with your donation
Donate securely on Healing in Arts to help Pamela continue her healing message