The Scarlet Cord
Voted Top 25 Installation at ArtPrize 2014
Healing for Sex Trafficked Children
Pamela Alderman
"Being unwanted, unloved, uncared for, and forgotten by everybody…that is a much greater hunger."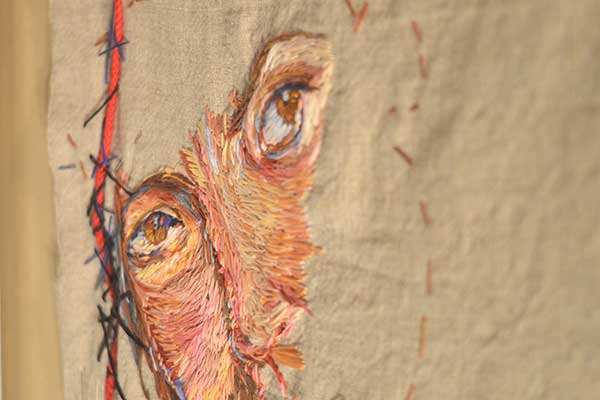 Incredible. Beautiful. Haunting.
The Scarlet Cord installation reveals the deception that enslaves innocent children. As visitors step inside a 40-foot storage container filled with thirty doors, they enter a secret world. This dark world crosses religious and social economic borders to sell our children for sex. The twisting scarlet cord depicts the trauma bond that connects the children to their traffickers. The weathered doors represent these abused children whose youthful minds have become knotted. Alderman's art—dedicated to these suffering children tethered within the sex industry—calls for compassionate action.
Hear real voices of trafficking survivors and law enforcement provided by Shared Hope International.
Night Cries
My new 2017 painting series, Night Cries, is my creative reaction to the history of pain and devastation experienced by so many who visited my installations. Voice actors recorded actual sentences from the victims I encountered. Then my tech guy turned the recordings into audio sound waves. This collection of abstract paintings have been interpreted from audio sound waves to 2D paintings.
The Scarlet Cord installation on the road

ArtPrize 2014, September 24 through October 12, Gerald R. Ford Presidential Museum, Grand Rapids, Michigan, in partnership with Women at Risk International
North Central Michigan College, October 27-30, 2014, Petosky, Michigan
Roosevelt Row Art District, January 23 through February 1, 2015, Phoenix, Arizona, sponsored by StreetLightUSA
Women's Expo, March 13 through 15, 2015, DeVos Place, Grand Rapids, Michigan
Acton Institute – Mark Murray Auditorium, April 29, 2015, Grand Rapids, Michigan, Gallery Exhibit & Lecture: The Scarlet Cord – The Evils of Human Trafficking (get details and map here)
Grand Rapids Public Museum, The Scarlet Cord Film Premiere, September 15, 2015, in partnership with Women At Risk International
Grand Valley State University, The Scarlet Cord Exhibit and Film Screening, February 4, 2016
The Scarlet Cord Film Screening, Culture Care Gathering, Brehm Center, Fuller Theological Seminary, Pasadena, California, March 5, 2016
Manasseh Project, The Scarlet Cord Film and presentation, Grand Rapids, Michigan, March 22, 2016
Judge Patricia Gartner utilizes The Scarlet Cord Film as an educational tool for juveniles in the court system to learn about sex trafficking and its personal impact. Kent County Courthouse; Grand Rapids, Michigan
The Scarlet Cord Film Screening, Detroit International Human Trafficking Summit, with Liberty and Freedom Now, Cobo Center, Detroit, Michigan
Stay tuned…more locations coming soon
Pamela Alderman is a very talented artist, but she is much more than that. She is a woman concerned about a greater artistic endeavor—the protection, welfare, freedom, dignity and worth of all women. Her exhibit "The Scarlet Cord," masterfully opens the eyes of the public to the sad and destructive world of human trafficking. She exposes the dark side, but is always ready to show the path to redemption and healing.
Michael Cook
Manager of Programs, Acton Institute
Pamela put together a powerful program at GVSU. Her exhibit was evocative and emotional, and the event she coordinated brought home the reality of sex trafficking with people who have experienced first-hand the terrible frequency of it in West Michigan. Overall, though, the message was one of hope—the hope that those trafficked can heal, the hope that our actions can mitigate this scourge, and the hope that humanity can triumph over evil.
Dr. Jeff Chamberlain
Director, Frederik Meijer Honors College
Grand Valley State University
Help Make a Difference
By confronting the harsh reality of child trafficking, we activate hope and healing.
The Scarlet Cord in Phoenix
More on The Scarlet Cord in Phoenix…
Watch WZZM TV13 interview with Pamela about The Scarlet Cord traveling to Phoenix…
The Tragedy of Human Trafficking
To schedule The Scarlet Cord exhibition, email Pamela Alderman or use the form on our Contact page.
To help The Scarlet Cord exhibit travel to new locations, please make your donation on the Healing in Arts web site. Thank you for continuing this journey with us.